ABOUT US
Dr. Manoj Kela is a well experienced Consultant General & Laparoscopic Surgeon in Indore. He received his medical degree M.B.B.S from PDMMC Amravati Maharashtra & M.S.(Gen.Surgery) from M.G.M. Medical College, Indore.
Dr. Manoj Kela Currently working as Professor in Dept. Of General Surgery, Sri Aurobindo Medical College & P.G. Institute, Indore. Earlier he was working as a Senior Resident in General Surgery Department in SAIMS,Indore & Assistant & Associate Professor in General Surgery Department in SAIMS, Indore.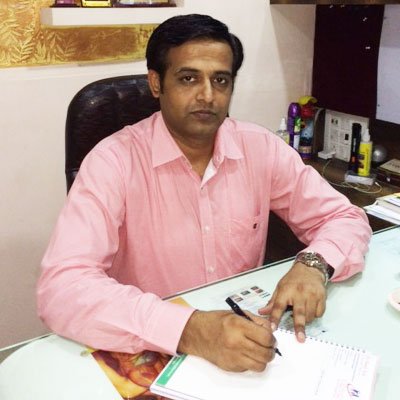 SURGICAL EXPERIENCE :
Special Interest in laparoscopic surgery, have done FIAGES and FALS in year 2010 & 2011.
ACTIVE & LIFE TIME MEMBER :
ASI (Association of surgeons of India)
Life time Member of Indore city chapter of ASI.
SERVED AS :
Earlier working for ASI INDORE CITY CHAPTER as HON.SECRETARY OF TEAM 2015.
ATTENDED :
Attended basic Course workshop in Medical Education training at SAIMS
VARIOUS State & National conferences like MP-ASICON, ASICON , ABSCICON , AMASICON etc
ACTIVE PARTICIPATION IN ORGANISING / CONDUCTING :
1 st Surgical P.G. skill course SAMC and PGI Indore 2012.
2 nd Surgical P.G. skill course SAMC and PGI Indore 2013.
PAPER PUBLICATIONS :
Ileal tuberculosis with bleeding per rectum –a rare case report; Agarwal R, Sharma R, Agarwal A, Kela M. Clinical and Experimental Gastroenterology 2009:2 129–131
Gunjan Mehrotra, Rajesh Sharma, ManojKela, AvinashVishwani, Sangram Singh. "Megacystis–microcolon– intestinal hypoperistalsis syndrome- case report and review of literature". Journal of Evolution of Medical and Dental Sciences 2013; Vol2, Issue 23, June 10; Page: 4152-4155.
Many Paper publication in National & International general of surgery.